Beginner (Home-Education)
Are you teaching your child at home and would like to expose them to one of the most important European languages and cultures?
In these engaging German classes your child for Beginners, your child will
learn to greet people and introduce themselves

talk about sport, games and playground activities

learn to spell and count

find out about German geography, traditional games, food and holiday traditions
The class runs in a block of 6x60min and is suitable for children, who are familiar with reading and writing single words and simple phrases (min. age 6 years)
The small class size of max. 8 students ensures that your child will have plenty of opportunity to practice their language skills in class and receive ample attention from the teacher.
The majority of course material is taken from the book Planetino. It is not neccessary for your child to have this course book, as the teachers will provide the children with handouts. However, it is possible to purchase the course book and exercise book from us.
About the teacher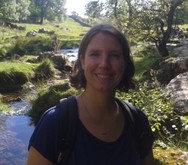 The class will be taught by Myrjam, who comes from Rheinland-Pfalz in the South-West of Germany. She is a qualified and experienced teacher and has taught in a German primary school before coming to England in 2014. Since 2015 has been teaching adult evening classes at the Deutsch Centre, as well as conducting teacher trainings and creative writing workshops.
Mondays 12:15pm to 1:15pm
Block 1: 11th September to 16th October 2017
Block 2: 30th October to 4th December 2017
£45 per block